I'm a Themify Ultra user less than a few months and believe it to be the best theme for WordPress, it gives me the freedom to customize my site the way I want it as easy as possible, I thought Wix was good and easy, but the Themify Ultra surprised me with the wide range of customization options, much larger than any other website builder
About Themify
Themify was launched in 2010 by cofounders Nick La (whose original claim to fame was as founder of the insanely successful Web Designer Wall website) and Darcy Clarke. Very few WordPress businesses can claim to be in their sixth year, making Themify one of the oldest and most respected theme sellers in the WordPress world.
The goal for Themify was simple: To develop beautiful WordPress themes and powerful plugins. Its collection of themes and plugins can be bought individually, meaning Themify can sit comfortably under the umbrella of WordPress theme shop.
However, Themify primarily operates as a WordPress club, meaning you can pay a yearly subscription in return for access to all of its products — a popular way for people who run multiple websites to purchase WordPress products.
Themify Pricing
Let's start by discussing the price of the products.
To keep things simple, Themify offers flat pricing of $ 49 on individual themes. (Note: There is currently a two-for-one offer on all single themes.)
Currently Themify has the best theme builder library for WordPress and to have access to all themes it is necessary to have an annual subscription, but Themify has some free themes.
Below the price list:
These are fairly standard prices in the WordPress world – neither cheap nor overly expensive. Take a look at the major WordPress marketplaces and you'll see products priced in the same ballpark.
However, if you're prepared to part with slightly more money, you can get far more bang for your buck. Club memberships offer outstanding value, with Themify Club memberships coming in four flavors.
All options paid include full support for the duration of the membership. They can also be used on an unlimited number of websites, which means that agencies can use Themify products on their clients' websites.
Most Popular Themify Themes
Want to see how the Themify theme looks? No problem. In this section, I'm going to run through the three most popular themes.
1 – ULTRA
Price: $49 | Live Demo
The most powerful & flexible WordPress theme created by Themify, making it easy to create any site quickly and beautifully (and responsive, of course). Take full control of your theme design from header to footer. Loaded with many layout options and features, it is by far the most versatile theme by Themify.
2 – LANDING
Price: $49 | Live Demo
As the name implies, Landing is a dedicated landing page theme (one we took an in-depth look at when it came out in a previous post). As such, the layout is relatively simple, because the aim is to collect as many email addresses as possible — or whatever goal you're targeting. The theme comes with five header options, giving you the opportunity to craft your perfect landing page. It also supports more than 25 templates, giving you a range of starting points you can use for inspiration.
3 – SPLIT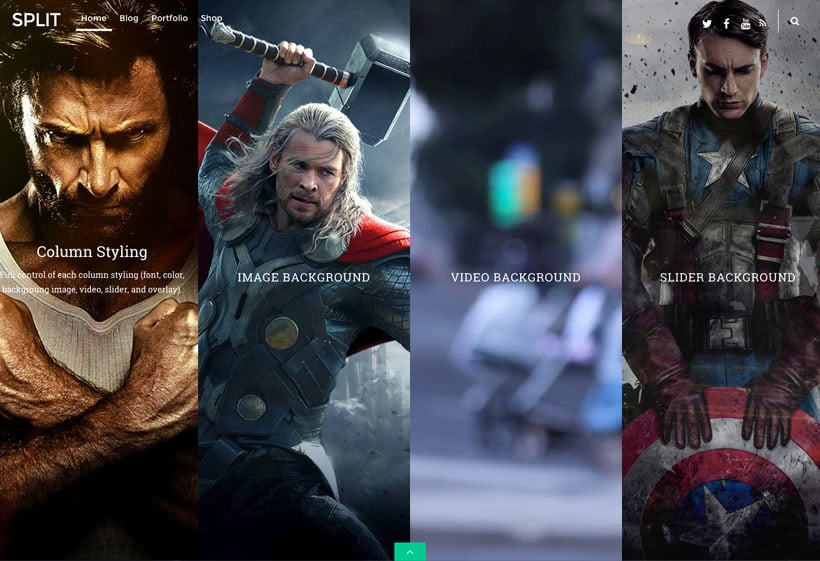 Price: $49 | Live Demo
Another beautiful theme from Themify, Split gets its name from the eye-catching 'splitting' animations you can see when scrolling down the page. The split effect also makes it an effective way of displaying comparisons side by side. The theme supports a Pinterest-style portfolio, too, with useful filter functionality to help visitors find the content they want.
Themify Support
Themify offers extensive documentation for all its themes and plugins — there are hundreds of guides available, many of which include video to help you along. This documentation section should be the first port of call if you face any problems. There is also an FAQ section that, although basic, should help inexperienced WordPress users find their feet.
For the most part, though, support takes place in the Themify Forums. There are dedicated subforums for each individual theme and plugin, plus there are more general subforums.
Rodrigo Prazim